Hà Dương, #I Am Science
Hà Dương, #I Am Science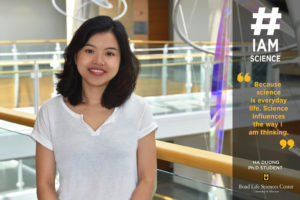 8,124 miles. That's how far Ph.D. student Ha Duong traveled from home to work in the Stacey Lab at Bond LSC.
Duong came from her home in Vietnam where she studied plant sciences at Hanoi University of Agriculture. A chance encounter brought her to MU.
"Back in my last year of undergrad, a professor from MU came and gave a talk," Duong said. "I thought about MU. I then received a fellowship then chose here. I got it so it is destiny."
With some questionable looks from her mother when she first heard of the idea, Duong went for it anyways. Despite a significant culture change from Vietnam to Missouri, Duong is embracing the change as an opportunity to get to know herself better.
"I get to compare these two countries and see the differences," Duong said. "Which will always be good for me."
Duong's love of science stems from hanging out in her father's material physics lab growing up. Duong did not realize the impact this would have on her until looking back on all the times of being in his lab.
"When you grow up, certain things you do not realize, get to you," Duong said. "I quite liked the environment, it was quiet and you have your own creativity."
Years later, Duong is now going into her fifth year as a Ph.D. student. She is trying to find the missing components in the extracellular ATP signaling pathway in plants. ATP is a high-energy molecule typically found inside cells where it stores and supplies the plant with fuel, so it is somewhat surprising that it also has a signaling role outside of the cell.
The Stacey Lab discovered the first extracellular ATP receptor in plants, so now the research is digging more into their discovery. Duong is happy about being around pioneers in plant science and wishes to be a pioneer as well.
"The moment I realized I am into science is thinking about how today I can discover a new thing," Duong said. "But while it starts with the theories, later it can turn into an even bigger thing and have applications throughout life."
To Duong, science can be applied from the lab to her home.
"Science means daily life to me," Duong said. "Science influences the way I am thinking and how I do the simplest thing most effectively. Almost everything around us, we can criticize it using science. I am a practical person so anything you can apply to life is what I like."
However, Duong emphasizes that science isn't always as serious as one thinks. She has flexibility and creativity when it comes to her work and being half the equator away from home while studying what she loves makes missing home a little easier.
"I miss home, but not miss miss it," Duong said. "I have work to do every day, and you need to do what you need to do and finish it. I do miss the food a lot, though."
By Erica Overfelt | Bond LSC