Le Van Trang – Visiting Scholar - Visiting scientist
CONTACT INFORMATION: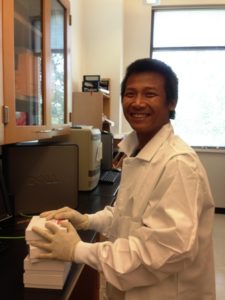 Trang Le Van
Visiting Scholar at the Stacey Lab
202 Life Sciences Center
1201 Rollins Road
University of Missouri
Columbia, MO 65211
Email: trangl@missouri.edu
Lab phone No.: 573-884-4799
EDUCATION:
– 2007-2011: Bachelor in Agriculture, Mekong University, Vietnam. Major: Biotechnology. Thesis title: "Application of Marker-Assisted Selection in Fragrant Rice Breeding and Selection".
PROFESSIONAL EXPERIENCES:
– Basic skills in soybean and rice breeding and variety selection.
– DNA extraction, PCR.
– Good skills with Minitab, Microsoft Word, Excel, Powerpoint.
EMPLOYMENT:
– September 2011 – March 2016: Researcher, Department of Plant Genetics and Breeding, the Cuu Long Delta Rice Research Institute, Cantho, Vietnam.
– March 2016 – Now: Visiting Scholar, Division of Plant Sciences, University of Missouri, Columbia, MO, USA
CURRENT PROJECT:
– A resource for functional genomics to support soybean genetics and breeding (NSF grant)
– Identification and characterization of novel plant genotypes for soybean seed trait improvement using fast neutron irradiated mutants (MSMC grant)
– Characterization of genetic lesions and yield potential of two fast neutron mutants with high seed-per-pod value traits (MSMC grant)
– Identification and characterization of novel plant genotypes for soybean seed trait improvement
using fast neutron irradiated mutants (MSMC grant)
– Network-guided modification of soybean meal composition (United Soybean Board grant)