Old friends, new ideas
A partnership between MU and Gyeongsang National University in South Korea has created lasting connections.
Click here to the original story
By Eleanor Hasenbeck | Bond Life Sciences Center
Discussion went global this week as researchers converged from Gyeongsang National University in South Korea, MU and Washington University at Bond Life Sciences Center for the sixth MU-GNU International Joint Symposium on Plant Biotechnology.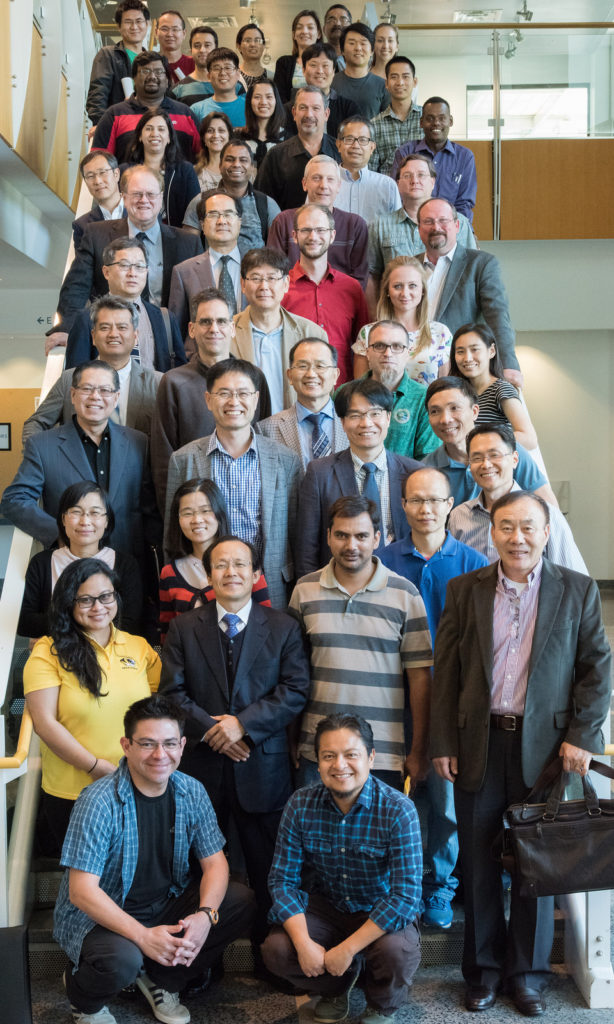 Plant biologists from each university shared their research, ranging from molecular biology and signaling to breeding soybeans for improved yields. The symposium is held every two years, alternating locations between the U.S. and South Korea. This conference marks the eleventh year of collaboration between GNU and MU.
"Every trip that comes over, new collaborations develop," said Gary Stacey, a Bond LSC scientist of soybean biotechnology and chair of the symposium's local organizing committee. "Just at dinner the other night, you could hear people talking and saying 'We should do that together.' You get people together and they collide, and good things come from that. The whole idea of these symposiums is trying to increase those collisions."
As those involved share new research and ideas, these collaborations create opportunities. A former student in Stacey's lab recently received a doctoral degree from both universities as part of a joint-doctoral degree program. Undergraduate Korean students can also complete a "2+2" degree, where students can begin their studies with two years at GNU and finish with two years at MU.
The schools also exchange faculty members. GNU researchers Jong Chan Hong and Woo Sik Chung completed sabbaticals at MU. Stacey has spent time in Korea, and his lab receives funding from Korean grants.
"Getting our students to interact with Korean students and Korean faculty expands their horizons, gets them in contact with other cultures and is really part of creating an intellectual environment where students can grow," Stacey said.
For Stacey, the symposium has also brought valued friendships. "After you've been over there, and you know these guys for eleven years, it's like your cousin coming home," he said. "You're not a visitor anymore. You're like part of the family."
For more information about the science exchanged, visit https://staceylab.missouri.edu/symposium.