June 18, 2016
CONTACT INFORMATION

Division of Plant Sciences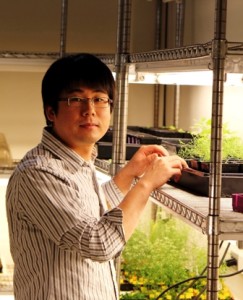 202 Christopher S. Bond Life Sciences Center
1201 E. Rollins Street
University of Missouri-Columbia
Columbia MO 65211
Email: kimdaew@missouri.edu
Lab phone: (573) 884 4799
EDUCATION
March 2006 – February 2014 Ph.D. in Division of Applied Life Sciences Gyeongsang National University, Jinju, Korea
March 1999 – August 2005 B.S. in Biochemistry Gyeongsang National University, Jinju, Korea
PROFESSIONAL EXPERIENCES
– March 2014 – February 2016:
Senior Researcher
Division of Applied Life Sciences (BK21plus),
Gyeongsang National University, Jinju, Korea
– September 2011 – August 2012 Visiting Student
Visiting Student
Department of MCDB,
The University of Michigan
PUBLICATIONS
Kim DW

, Gu F, Park SJ, Bahk JD and Nielsen E. Functional Characterization of fer-ts, a Temperature-Sensitive FERONIA Mutant Allele That Alters Root Hair Growth. Plant J. *(Under revision)
Kim DW, Jeon SJ, Hwang SM, Hong JC, Bahk JD. The C3H-type Zinc Finger Protein GDS1/C3H42 is a Nuclear-Speckle-Localized Protein that Is Essential for Normal Growth and Development in Arabidopsis. Plant Sci. Available online 14 June 2016 (In Press, Accepted Manuscript )
Akhter S, Uddin MN, Jeong IS, Kim DW, Liu XM, Bahk JD. Role of Arabidopsis AtPI4Kγ3, a type II phosphoinositide 4-kinase, in abiotic stress responses and floral transition. Plant Biotechnol J. 2016 Jan;14(1):215-30. doi: 10.1111/pbi.12376. Epub 2015 Apr 16.
Hwang SM*,

Kim DW

*, Woo MS, Jeong HS, Son YS, Akhter S, Choi GJ, Bahk JD. Functional characterization of Arabidopsis HsfA6a as a heat-shock transcription factor under high salinity and dehydration conditions. Plant Cell Environ. 2014 May;37(5):1202-22. *These authors contributed equally to this work.
Chen J, Bang WY, Lee Y, Kim S, Lee KW, Kim SW, Son YS, Kim DW, Akhter S, Bahk JD. AtObgC-AtRSH1 interaction may play a vital role in stress response signal transduction in Arabidopsis. Plant Physiol. Biochem. 2014 Jan;74:176-84.
Son YS, Im CH, Kim DW, Bahk JD. OsRab11 and OsGAP1 are essential for the vesicle trafficking of the vacuolar H+-ATPase OsVHA-a1 under high salinity conditions. Plant Sci. 2013 Jan;198:58-71.
Bang WY, Hata A, Jeong IS, Umeda T, Masuda T, Chen J, Yoko I, Suwastika IN, Kim DW, Im CH, Lee BH, Lee Y, Lee KW, Shiina T, Bahk JD. AtObgC, a plant ortholog of bacterial Obg, is a chloroplast-targeting GTPase essential for early embryogenesis. Plant Mol. Biol. 2009 Nov;71(4-5):379-90.
Hwang SM,

Kim DW

, Lee BH, Bahk JD. Arabidopsis cytoplasmic N-acetyltransferase, as the ortholog of RimL in E. coli, controls flowering time via the autonomous pathway. Plant Sci. 2009 Dec;177;593–600.
Bang WY, Jeong IS,

Kim DW

, Im CH, Ji C, Hwang SM, Kim SW, Son YS, Jeong J, Shiina T, Bahk JD. Role of Arabidopsis CHL27 Protein for Photosynthesis, Chloroplast Development and Gene Expression Profiling. Plant Cell Physiol. 2008 Sep;49(9):1350-63.