Jinrong Wan, Ph. D. - Research Scientist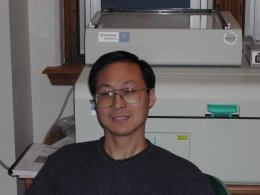 Jinrong Wan
Division of Plant Sciences
University of Missouri
Columbia, MO 65211
Phone: (573) 814-9918
E-mail: wanj@missouri.edu
Education
Ph.D., Crop Science, University of Kentucky, Lexington, KY
M.S., Botany, Jiangsu Institute of Botany, Nanjing, China
B.S., Botany, Nanjing University, Nanjing, China
Employment History
June 2005 – present, Research Scientist, Division of Plant Sciences, University of Missouri, Columbia, MO, USA
July 2002 – June 2005, Postdoctoral Associate, Division of Plant Sciences, University of Missouri, Columbia, MO, USA.
August 1999 – July 2002, Postdoctoral Associate, Department of Plant Pathology, University of Wisconsin-Madison, Madison, WI, USA.
Selected Publications
Zhou L, Song L, Lian Y, Ye H, Usovsky M, Wan J, Vuong TD, Nguyen HT (2021) Genetic characterization of qSCN10 from an exotic soybean accession PI 567516C reveals a novel source conferring broad-spectrum resistance to soybean cyst nematode. Theor Appl Genet 134:859-874.
Usovsky M, Ye H, Vuong TD, Patil GB, Wan J, Zhou L, Nguyen HT (2021) Fine-mapping and characterization of qSCN18, a novel QTL controlling soybean cyst nematode resistance in PI 567516C. Theor Appl Genet 134:621-631.
Song L, Pan Z, Chen L, Dai Y, Wan J, Ye H, Nguyen HT, Zhang G, Chen H (2020) Analysis of Whole Transcriptome RNA-seq Data Reveals Many Alternative Splicing Events in Soybean Roots under Drought Stress Conditions. Genes (Basel) 11:1520.
Patil GB, Lakhssassi N, Wan J, Song L, Zhou Z, Klepadlo M, Vuong TD, Stec AO, Kahil SS, Colantonio V, Valliyodan B, Rice JH, Piya S, Hewezi T, Stupar RM, Meksem K, Nguyen HT (2019). Whole-genome re-sequencing reveals the impact of the interaction of copy number variants of the rhg1 and Rhg4 genes on broad-based resistance to soybean cyst nematode. Plant Biotechnol J. doi: 10.1111/pbi.13086.
Song L, Valliyodan B, Prince S, Wan J, Nguyen HT (2018). Characterization of the XTHGene Family: New Insight to the Roles in Soybean Flooding Tolerance. Int J Mol Sci. doi: 10.3390/ijms19092705.
Wan J, Song L, Wu Y, Brzoska P, Keys D, Chen C, Valliyodan B, Shannon JG, and Nguyen HT (2016). Application of digital PCR in the Analysis of Transgenic Soybean Plants. Advances in Bioscience and Biotechnology 7, 403-417. doi:4236/abb.2016.710039.
Song L, Prince S, Valliyodan B, Joshi T, Maldonado dos Santos JV, Wang J, Lin L, Wan J, Wang Y, Xu D, Nguyen HT (2016). Genome-wide transcriptome analysis of soybean primary root under varying water-deficit conditions.BMC Genomics. doi: 10.1186/s12864-016-2378-y.
Kadam S, Vuong TD, Qiu D, Meinhardt CG, Song L, Deshmukh R, Patil G, Wan J, Valliyodan B, Scaboo AM, Shannon GJ, and Nguyen HT (2016) Genomic-assisted haplotype evaluation and marker development for the next generation soybean cyst nematode resistance breeding. Plant Science 242:342-50.
Wan J, Vuong T, Jiao Y, Joshi T, Zhang H, Xu D, and Nguyen HT (2015). Whole-genome gene expression profiling revealed genes and pathways potentially involved in regulating interactions of soybean with cyst nematode (Heterodera glycines Ichinohe). BMC Genomics 16:148. doi: 10.1186/s12864-015-1316-8.
Liang Y, Cao Y, Tanaka K, Thibivilliers S, Wan J, Choi J, Kang C, Qiu J, and Stacey G (2013) Nonlegumes respond to rhizobial nod factors by suppressing the innate immune response. Science 341:1384-1387.
Xu X, Zeng L, Tao Y, Vuong T, Wan J, Boerma R, Noe J, Li Z, Finnerty S, Pathan M, Shannon G, and Nguyen HT (2013) Pinpointing genes underlying the quantitative trait loci for root-knot nematode resistance in palaeopolyploid soybean by whole genome resequencing. Proc Natl Acad Sci USA 110:13469-13474.
Wan J, Tanaka K, Zhang X, Son GH, Brechenmacher L, Nguyen THN, and Stacey G (2012) LYK4, a LysM receptor-like kinase, is important for chitin signaling and plant innate immunity in Arabidopsis. Plant Physiol 160:396-406.
Son G-H, Wan J, Kim H-J, Nguyen X-C, Chung W-S, Hong J-C, and Stacey G (2011) The ethylene responsive element binding factor 5, ERF5, is involved in the chitin-induced innate immunity response. Mol Plant-Microbe Interact 25:48-60.
Mathieu M, Winters EK, Kong F, Wan J, Huang S, Eckert H, Donovan C, Somers D, Wank K, Stacey G, and Clement T (2009) Establishment of a soybean (Glycine max L) transposon-based mutagenesis repository. Planta 229:279-289.
Wan J, Zhang X, and Stacey G (2008) Chitin signaling and plant disease resistance. Plant Signal Behav 3:831-833.
Wan J, Zhang X, Neece D, Clough S, Ramonell K, Kim S-Y, Stacey M, and Stacey G (2008) A LysM receptor-like kinase plays a critical role in chitin signaling and fungal resistance in Arabidopsis. Plant Cell 20:471-481.
Adams-Phillips L, Wan J, Tan X, Dunning FM, Meyers BC, Michelmore RW, and Bent AF (2008) Discovery of ADP-ribosylation and other plant defense pathway elements through expression profiling of four different Arabidopsis-Pseudomonas R/avr Mol Plant-Microbe Interact 21:646-657.
Wan J, Patel A, Mathieu MS, Kim S-Y, Xu D, and Stacey G (2008) A lectin receptor-like kinase is required for pollen development in Arabidopsis. Plant Mol Biol 67:469-482.
Zhang X-C, Wu X, Findley S, Wan J, Libault M, Nguyen HT, Cannon SB, and Stacey G (2007) Molecular evolution of LysM type receptor-like kinases in plants. Plant Physiol 144:623-636.
Libault M, Wan J, Czechowski T, Xu D, Udvardi M, and Stacey G (2007) Identification of 118 Arabidopsis transcription factor and 30 ubiquitin-ligase genes responding to chitin, a plant-defense elicitor. Mol Plant-Microbe Interact 20:900-911.
Stacey G, Libault M, Brechenmacher L, Wan J, and May GD (2006) Genetics and functional genomics of legume nodulation. Curr Opin Plant Biol 9:110-121.
Ramonell K, Berrocal-Lobo M, Koh S, Wan J, Edwards H, Stacey G, and Somerville S (2005) Loss-of-function mutations in four chitin responsive genes show increased susceptibility to the powdery mildew pathogen, Erysiphe cichoracearum. Plant Physiol 138:1027-1036.
Wan J, Torres M, Ganapathy A, DaGue B, Mooney B, Thelen J, Xu D, and Stacey G (2005) Proteomic analysis of soybean root hairs after infection by Bradyrhizobium japonicum. Mol Plant-Microbe Interact 5:458-467.
Wan J, Zhang S, and Stacey G (2004) Activation of a mitogen-activated protein kinase pathway in Arabidopsis by chitin. Mol Plant Pathol 5:125-135.
Wan J, Dunning M, and Bent AF (2002) Probing pathogen-plant interactions and downstream defense signaling using DNA microarrays. Funct Integr Genomics 2:259-273.
Fellers J, Wan J, Hong Y, Collins GB, and Hunt AG (1998) In Vitro interactions between a potyvirus-encoded genome-linked protein and RNA-dependent RNA polymerase. J Gen Virol 79:2043-2049.