Lijun Wang – Visiting Scholar - Visiting Scholar
Contact Information
Lijun Wang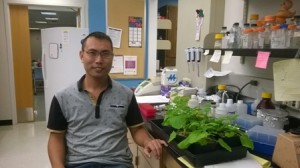 201 Life Science Center
1201 Rollins Road
University of Missouri-Columbia
Columbia, MO 65211
email: Wanglijun at missouri.edu
Lab: (573) 884 4799
Education
Ph. D. in Plant Genetics: Institute of Genetics and Developmental Biology, Chinese Academy of Sciences (2012)
MS in Biochemistry and Molecular Biology: Northwest Agriculture and Forestry University (2004)
BS in Horticulture : Northwest Agriculture and Forestry University (2001)
Professional Experiences
Lecture in Yangtze University (2004-2007,2012)
Current Research Focus
Soybean rhizobia symbiosis
Publications
(1) Lijun Wang, Jiayang Li et al. Identification and cloning of RSRG1 required for the formation of resistant starch in rice (In preparation).
(2) Lijun Wang, Xue Bai. The extracting technology of D-chiro inositol from buckwheat. Food Science and Technology. 2014, 39 (8):217-219
(3) Fangfang Man, Dengling Wei, Lijun Wang et al. Characters and Cultivation Technique of zhonglongjing No.1. Journal of Anhui Argcultural Science. 2014, 42(13):3846,3874.
(4) Lijun Wang and Xue Bai. Extraction process of pigment from pumpkin. Journal of Henan Normal University (Natural Science) 2009, 37(4): 117-120.
(5) Lijun Wang, LV Jie. Study on extraction of glycoprotein from pumpkin, Science and Technology of Cereals, Oils and Foods, 2006, 20(1): 87-90.
(6) Zhixiong Liu, Lijun Wang, Yazhen Yang, Xue Bai and Renjie Li. Research on bacteriostasis effect of aloe, Journal of Shanghai University of Engineering Science, 2007, 21(3): 219-221.
(7) Tao Zhang, Lijun Wang and Mengxiang Gao. Research on the extraction of water soluble polysaccharides from Astragalus by Microwave. Academic Periodical of Farm Products Processing, 2006, 7: 14-17.
(8) Lijun Wang, Sanhong Fan and Aiguang Guo. Cloning and function analysis of ats1A gene promoter from Arabidopsis thaliana. Acta Bot. Boreal.-Occident. Sin., 2004, 24(10), pp 1856-1860.