Yangrong Cao - Postdoctoral Research Associate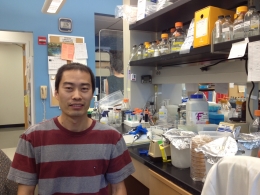 Yangrong Cao
201 Life Science Center
1201 Rollins Road
University of Missouri-Columbia
Columbia, MO 65211
email: caoy at missouri.edu
Lab: (573) 884 4799
Education
Ph. D. in Plant Genetics: Institute of Genetics and Developmental Biology, Chinese Academy of Sciences (2008)
MS in Plant Molecular BIology : Shandong Normal University (2004)
BS in Biological Science : Shandong Normal University (2001)
Professional Experiences
November 2008 — May 2012 : Research Associate; Department of Plant Pathology, University of Wisconsin-Madison, Madison, WI.
Current Research Focus
Plant innate immunity in soybean and Arabidopsis
Publications
1. Cao Y, Tanaka K, Nguyen CT, Stacey G. Extracellular ATP is a central signaling molecule in plant stress responses. Curr Opin Plant Biol. 2014. 20C:82-87.
2. Le MH, Cao Y, Zhang XC, Stacey G. LIK1, a CERK1-interacting kinase, regulates plant immune responses in Arabidopsis. PLoS One. 2014 9:e102245
3.Liang Y, Cao Y, Tanaka K, Thibivilliers S, Wan J, Choi J, Kang Ch, Qiu J, Stacey G. Nonlegumes respond to rhizobial Nod factors by suppressing the innate immune response. Science. 2013. 341:1384-1387
4. Choi J, Tanaka K, Cao Y, Qi Y, Qiu J, Liang Y, Lee SY, Stacey G. Identification of a plant receptor for extracellular ATP. Science. 2014 343:290-294
5. Cao Y, Aceti DJ, Sabat G, Song J, Makino S, Fox BG, Bent AF. Mutations in FLS2 Ser-938 dissect signaling activation in FLS2-mediated Arabidopsis immunity. PLoS Pathog. 2013 9:e1003313
6. Sun W*, Cao Y*, Jansen Labby K, Bittel P, Boller T, Bent AF. Probing the Arabidopsis flagellin receptor: FLS2-FLS2 association and the contributions of specific domains to signaling function. Plant Cell. 2012 Mar;24(3):1096-113 (* co-first author)
7. Mu RL*, Cao Y*, Liu YF, Lei G, Zou HF, Liao Y, Wang HW, Zhang WK, Ma B, Du JZ, Yuan M, Zhang JS, Chen SY. An R2R3-type transcription factor gene AtMYB59 regulates root growth and cell cycle progression in Arabidopsis. Cell Res. 2009 Nov;19(11):1291-304 (*co-first author)
8. Cao Y, Chen SY, Zhang JS. Ethylene signaling regulates salt stress response: An overview. Plant Signal Behav. 2008 Oct;3(10):761-3.
9. Cao Y, Li Z, Chen T, Zhang Z, Zhang J, Chen S. Overexpression of a tobacco small G protein gene NtRop1 causes salt sensitivity and hydrogen peroxide production in transgenic plants. Sci China C Life Sci. 2008 May;51(5):383-90.
10. Cao Y, Guo XL, Zhang Q, Cao ZY, Zhao YX, Zhang H. Isolation and characterization of carotenoid cleavage dioxygenase genein halophyte Suaeda salsa. Plant Growth Regulation 2005, 46(1): 61-67.
11. Guo XL, Cao YR, Cao ZY, Zhao YX, Zhang H. Molecular cloning and characterization of a stress-induced peroxiredoxin Q gene in halophyte Suaeda salsa. Plant Sci 2004. 167, 969–975.