Adama R Tukuli - Ph.D Student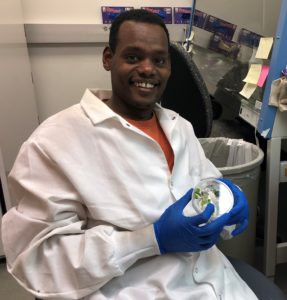 Contact information:
Adama R Tukuli
201 Life Science Center
1201 Rollins Road
University of Missouri
Columbia, MO 65211
Email: artkv6@mail.missouri.edu
Lab Phone No.: (573) 884 4799
Education:
2004-2007 –BS – Plant Sciences, Jimma University, Ethiopia
2017–Present Ph. D student in Plant breeding, genetics and genomics, University of Missouri.
Work Experience
2013-2016 Research lab technician at University of Missouri Columbia,
2011-2013 Research Lab Technician at Monsanto in Soybean breeding, St. Louis MO, USA.
2008-2010 Research lab technician at Honnover University, Germany
2007-2008 Graduate assistant lecturer at Arba Minch University, Ethiopia