Lijuan Zhou - Postdoctoral Research Associate
Lijuan Zhou- Postdoctoral Research Associate
Contact information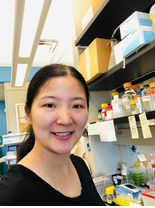 202 Christopher S. Bond Life Sciences Center
1201 E. Rollins Street
University of Missouri
Columbia, MO 65211
Email: zhoulij@missouri.edu
Lab : (573) 884 4799
Education
Sep 2010 ~ Jan 2017
Ph.D in genetics
Shanghai Institute of Plant Physiology and Ecology
Chinese Academy of Sciences, Shanghai, China
Sep 2006 ~ Jul 2010
B.S. in Biotechnology
College of Marine Life Sciences
Ocean University of China, Qingdao, China
Professional Experience
May 2019 ~ present
Postdoctoral associate
Legume-Microbe Interactions Laboratory
University of Missouri, Columbia, MO, USA
Jul 2017 ~ Dec 2018
Postdoctoral associate
Molecular Genetics and Soybean Genomics Laboratory
University of Missouri, Columbia, MO, USA
Publications
Su-Hui Chen*, Li-Juan Zhou*, Ping Xu, and Hong-Wei Xue. SPOC domain-containing protein Leaf inclination 3 interacts with LIP1 to regulate rice leaf inclination through auxin signaling. PLOS Genetics 2018, doi:10.1371/journal.pgen.1007829.
Heng Ye, Manish Roorkiwal, Babu Valliyodan, Lijuan Zhou, Pengyin Chen, Rajeev K Varshney, and Henry T Nguyen. Genetic diversity of root system architecture in response to drought stress in grain legumes. Journal of Experimental Botany 2018, 69: 3267–3277.
Li-Juan Zhou, Lang-Tao Xiao, and Hong-Wei Xue. Dynamic cytology and transcriptional regulation of rice lamina joint development. Plant Physiology 2017, 174: 1728-1746.
Yajin Ye*, Lijuan Zhou*, Xue Liu, Hao Liu, Deqiang Li, Minjie Cao, Haifeng Chen, Lin Xu, Jiankang Zhu, and Yang Zhao. A novel chemical inhibitor of ABA signaling targets all ABA receptors. Plant Physiology 2017, 173: 2356-2369.