Dongqin Chen - Postdoctoral Research Associate
CONTACT INFORMATION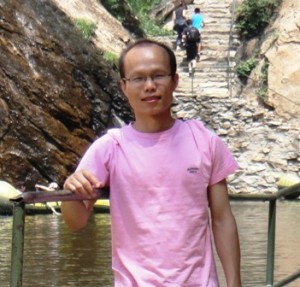 Division of Plant Sciences
201 Christopher S. Bond Life Sciences Center
1201 E. Rollins Street
University of Missouri-Columbia
Columbia MO 65211
Email: chendongq@missouri.edu
Lab phone: (573) 884 4799
EDUCATION
2013 Ph.D.     Institute of Botany, Chinese Academy of Sciences, Beijing, China
2008M.S.      South China Botanical Garden, Chinese Academy of Sciences, Guangzhou, China
2005 B. S       Fujian Agriculture and Forestry University, Fuzhou, China
PROFESSIONAL EXPERIENCES
March 2013 – October 2015:
Research Assistant
Institute of Genetics and Developmental Biology, Chinese Academy of Sciences, Beijing, China
CURRENT RESEARCH FOCUS
Plant innate immunity in Sorghum and Arabidopsis
PUBLICATIONS
1. Chen DQ, Xu G, Tang WJ, Jing YJ, Ji Q, Fei ZJ, Lin RC. (2013) Antagonistic basic helix-loop-helix/bZIP transcription factors form transcriptional modules that integrate light and reactive oxygen species signaling in Arabidopsis. Plant Cell, 25(5): 1657-1673.
2. Sang DJ*, Chen DQ*, Liu GF, Liang Y, Huang LZ, Meng XB, Chu JF, Sun XH, Dong GJ, Yuan YD, Qian Q, Li JY, Wang YH. (2014) Strigolactones regulate rice tiller angle by attenuating shoot gravitropism through inhibiting auxin biosynthesis. PNAS, 111(30): 11199-11204. (* Co-first authors)
3. Tang* WJ, Wang* WQ, Chen DQ, Ji Q, Jing YJ, Wang HY, and Lin RC. (2012) Transposase-derived proteins FHY3/FAR1 interact with PHYTOCHROME-INTERACTING FACTOR1 to regulate chlorophyll biosynthesis by modulating HEMB1 during deetiolation in Arabidopsis. Plant Cell, 24(5): 1984-2000.
4. Jing YJ, Zhang D, Wang X, Tang WJ, Wang WQ, Huai JL, Xu G, Chen DQ, Li YL, Lin RC. (2013) Arabidopsis chromatin remodeling factor PICKLE interacts with transcription factor HY5 to regulate hypocotyl cell elongation. Plant Cell, 25(1): 242-256.