Phat Do - Postdoctoral Research Associates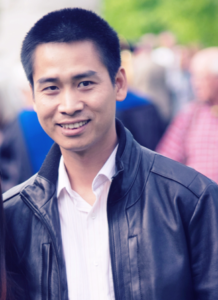 CONTACT INFORMATION
Division of Plant Sciences
201 Christopher S. Bond Life Sciences Center
1201 E. Rollins Street
University of Missouri-Columbia
Columbia MO 65211
Email: ptdc4c@mail.missouri.edu
Lab phone: (573) 884 4799
EDUCATION
2016 Ph.D.     University of Missouri
2009 M.S.       Vietnam National University of Agriculture
2003 B.S.        Vietnam National University of Agriculture
PROFESSIONAL EXPERIENCES
November 2003 –July 2011:
Research Assistant: Institute of Biotechnology, Vietnam Academy of Science and Technology
August 2011 – June 2016:
Ph.D. Student: Division of Plant Science, University of Missouri
CURRENT RESEARCH FOCUS
Transposon mutants and CRISPR/Cas9 targeted mutagenesis technologies in soybean.
PUBLICATIONS
Stacey MG. Cahoon RE, Nguyen HT, Nguyen CT, Cui Y, Sato S, Phoka N, Clark KM, Liang Y, Forrester J, Batek J, Do PT, Sleper DA, Clemente TE, Cahoon EB, Stacey G (2016) Identification of Homogentisate Dioxygenase as a Target for Vitamin E Biofortification in Oilseeds. Plant Physiol. 172(3):1506-1518
Do P, Lee HY, Mookkan M, Folk WR, Zhang Z (2016) Rapid and efficient Agrobacterium-mediated transformation of sorghum (Sorghum bicolor) employing standard binary vectors and bar gene as a selectable marker. Plant Cell Rep. 35(10):2065-76
Do P, De Tar JR, Lee H, Folta M, Zhang Z (2016) Expression of ZmGA20ox cDNA alters plant morphology and increases biomass production of switchgrass (Panicum virgatum L.). Plant Biotechnol J. 14(7):1532-40
Do P, Zhang Z (2015) Sorghum transformation: Achievements, challenges, and perspectives. In: Recent advancements in gene expression and enabling technologies in crop plants. Azhakanandam K, Silverstone A, Daniell H, Davey MR, ed. Springer-Verlag, New York, p1-455.