Sterling Evans #IAmScience
Sterling Evans #IAmScience
By Allison Scott | Bond LSC – See the Original Story Here
"#IAmScience because I want to focus my research on problems that exist in agriculture in undeveloped and third world countries."
Sterling Evans'mind wasn't focused on research when he started college, but that would soon change.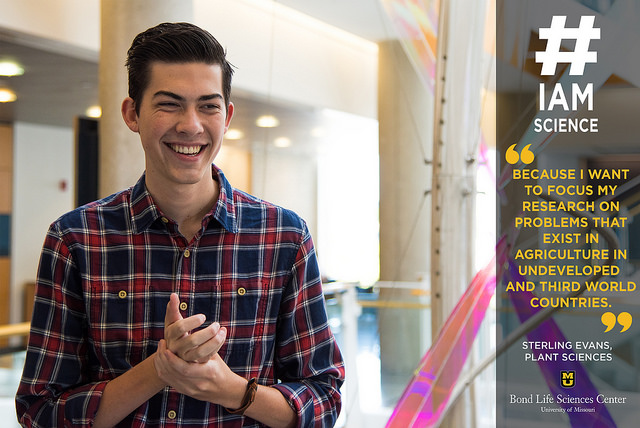 The sophomore plant sciences major uncovered his interest thanks to Freshman Research in Plant Sciences (FRIPS) — a program dedicated to introducing research to freshman students from plant-related degree programs.
"I was interested in plant sciences-related fields when I started here, but I had no intention of getting involved in undergraduate research," Evans said. "Being selected for FRIPS was instrumental in getting me involved with research."
Along with a handful of students selected for FRIPS each year, Evans got to interact with various professors and mentors around campus on a weekly basis. Because of that exposure, Evans found a place in the lab of Bond Life Sciences Center's Gary Stacey.
After a year working in Stacey's lab, Evans just joined a new project that aims to improve the nutritional value of soybeans.
"They're used as a main source of protein for a lot of countries, so improving their nutritional content would have a huge impact," Evans said.
The team is applies CRISPR, a gene-editing tool, to model plants called Arabidopsis as a first step.
"We are working on Arabidopsis right now as a proof of concept, because it can be done in a relatively short period of time, before investing as much as a two additional years in soybeans," Evans said.
While he only spends 15 hours in the lab each week, Evans noticed the lab's impact on his approach to academics in other ways.
"Research gives me more motivation to think about how to apply information I've learned in class to work in the lab," Evans said. "It has made me more analytical in classes because I have more of a desire to understand things."
Evans plans to earn a Ph.D. in a plant sciences field and wants to continue research in his career. He's most interested in helping ensure small communities throughout the world have enough to eat, and he hopes to contribute by studying orphan crops.
"I think they're cool because they're really important to small people groups. No one studies them because they aren't a big deal in the United States or other countries," Evans said. "If we work on them we won't have a huge impact on hundreds of millions of people, but we will have a huge impact on small communities."
That impact all started in a lab. Had he not stepped out of his comfort zone he might never have discovered this path, and he highly encourages other students to give research a chance.
"There are labs for almost everything and there's an area for everyone," Evans said. "I didn't know I wanted to do research until I did it."